Many people regard AirMore as a mere tool for file transfer. It is not true. Though AirMore has a powerful function for wireless transfer, it is also a great mobile device manager. Here is going to introduce one of its important managing features. That is AirMore "Contacts" function.
Note: To use it, you may need to enable permissions on your phone.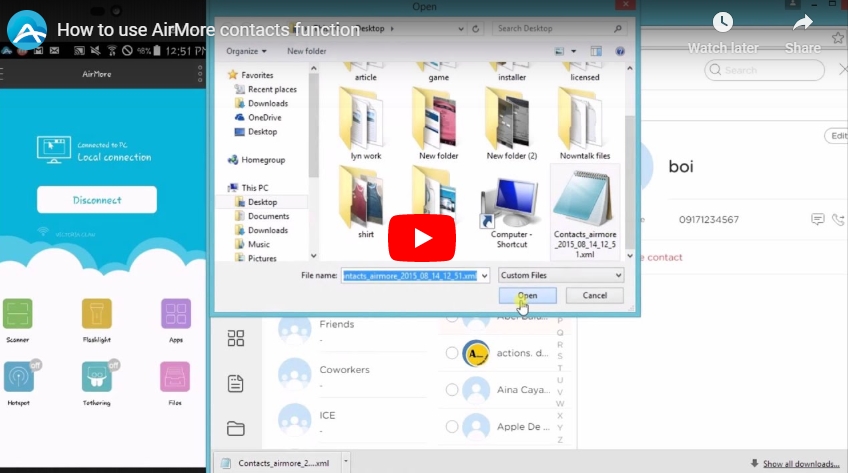 Introduction to AirMore Web Contacts Function
Edit Contacts
On AirMore Web, you can easily manage and edit all your contacts. You only need to:
Click "Contacts" icon on the left side of the website.
Select one contact to edit.
Click "Edit" on the right part of the contact information.
Modify or add contact information.
Click "Save" after finished.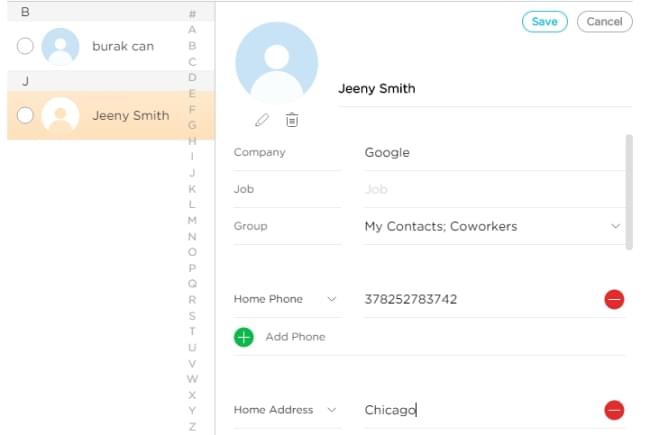 When editing, you are able to add information like mobile phone, address, email, company, job and so on. Best of all, you can add avatar, which makes it quite easy for you to recognize these people.
Transfer Contacts
AirMore allows you to transfer contacts from phone to PC for backup. You can:

Select all the contacts to transfer.
Click "Export" on top.

If you want to move all the contacts in one group, there is a fast way.

Choose the group.
Check the circle in front of "Name" to select all.
Click "Export".

AirMore also enables you to transfer contacts from PC to phone. Please refer to the following guide:

Click "Import".
Choose the contacts in the computer.
Click "Open".

Tips: At present, it only supports a private contacts format of AirMore. Therefore, if you want to transfer contacts from one phone to another, please install this app on both Android phones.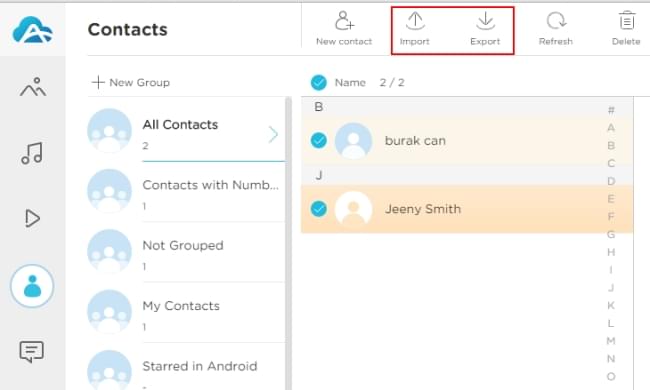 Delete Contacts
You can delete unwanted contacts on AirMore Web freely.
To delete one, you only need to select it, and click "Delete contact" under the contact information.
To delete more than one, you can select all these contacts and click "Delete" button on top.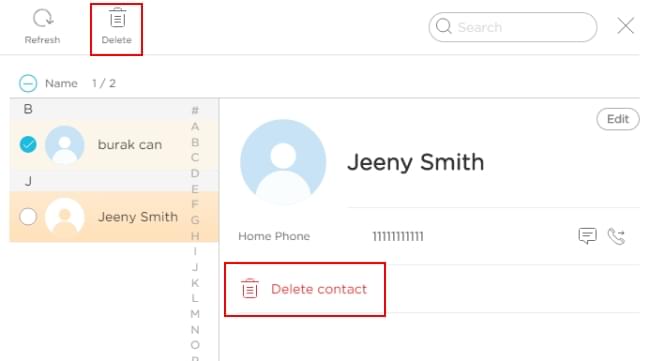 However, for some phone whose system doesn't allow a third-party app to delete contacts, you may fail. Under this condition, you can only remove them manually on your phone.
Create New Contacts
You can add new contacts to your phone by using AirMore. Just click "New Contact" button on top, type in contacts information and save.
Make Phone Call and Send SMS
You can directly make phone calls and send text messages from AirMore Web, by clicking the phone and message icons under contact information. But this function needs your permissions on your phone.
Search Contacts
It's really difficult to find one contact among hundreds even thousands of them on such a small phone screen. But on AirMore Web, it is as easy as pie.
Way One: Type in the information into the searching box at the top right corner and the corresponding contacts will come out.
Way Two: If you want to quickly locate the contacts initiated with a certain letter, you can press that letter on the keyboard or click it on web.
Does AirMore "Contacts" feature impress you? If so, go try it. It is more convenient and comfortable to manage contacts on big computer screen than that on small phone screen, isn't it?